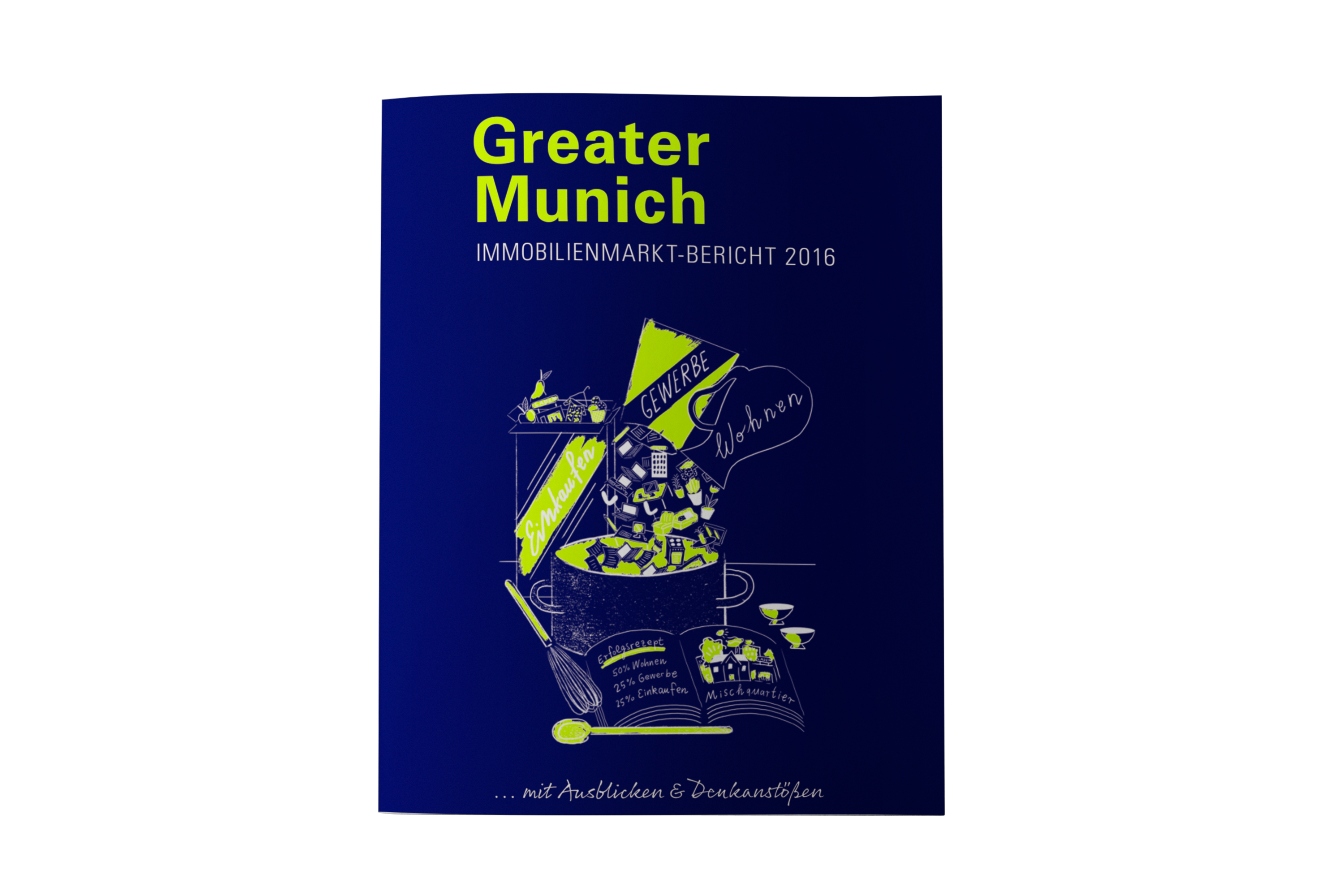 To present the Munich metropolitan region at its best, from Garmisch-Partenkirchen to Eichstätt and from Dingolfing to Augsburg, we wanted this market report to be not "just" a serious, high-end publication. This led us to make two decisions: an unusual colour scheme with deep blue and neon green, which stood out at the EXPO, and "enrichment" of the clearly structured content with fascinating insights, food for thought, ideas, and tips from the director of e+k, illustrated with cute images and plenty of details to make you smile.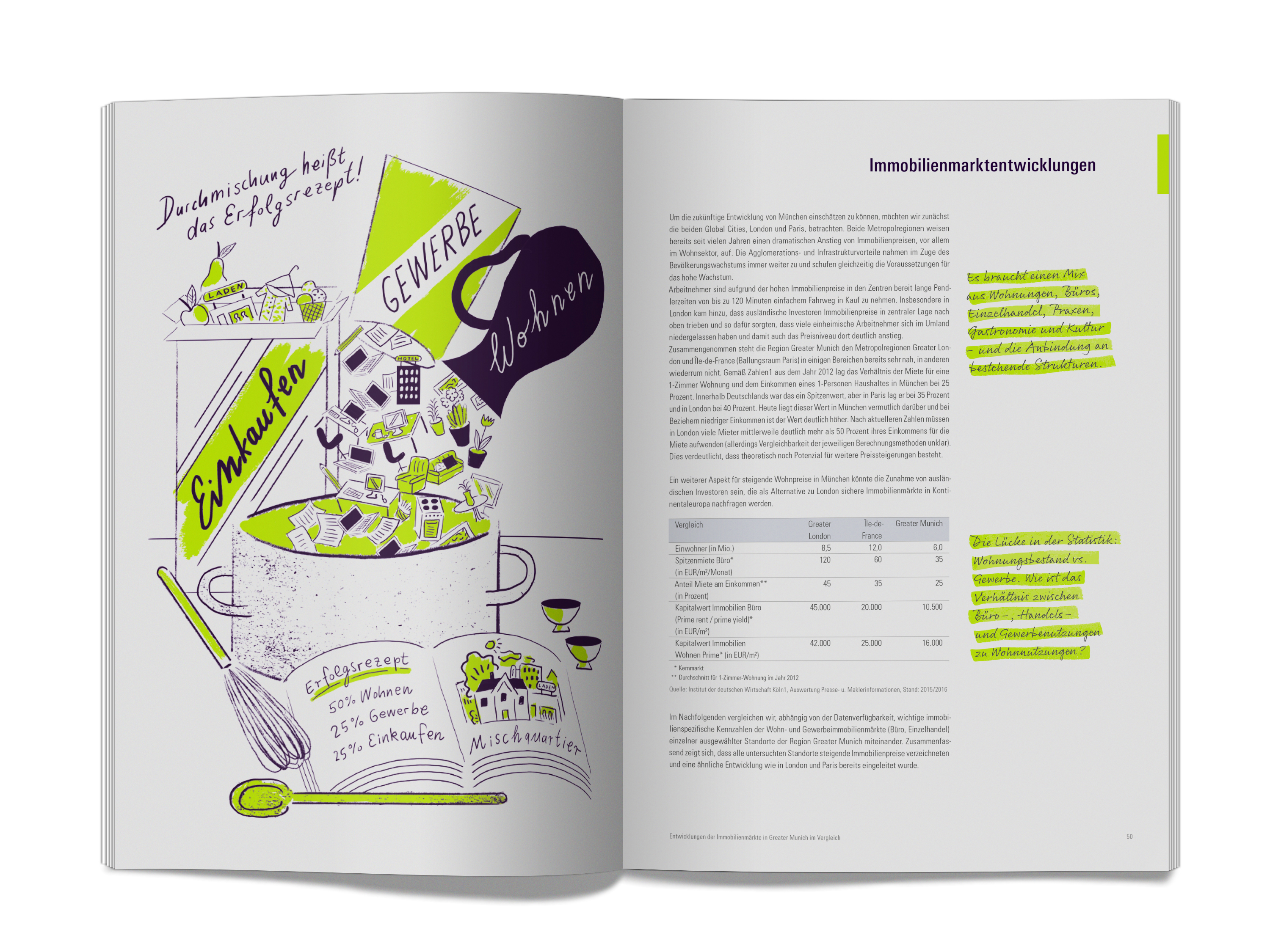 Following an internal competition among three illustrators, Carolin Löbbert from Hamburg won the bid—and we won high praise from e+k's corporate communications manager: "I was particularly taken by the honest enthusiasm and passion of Ms. Goldfuss, paired with effective project management and a highly professional team. Together with Pascal Gerdsmeier, a very deliberate designer with a deep connection to his creative work, the two make a perfect team."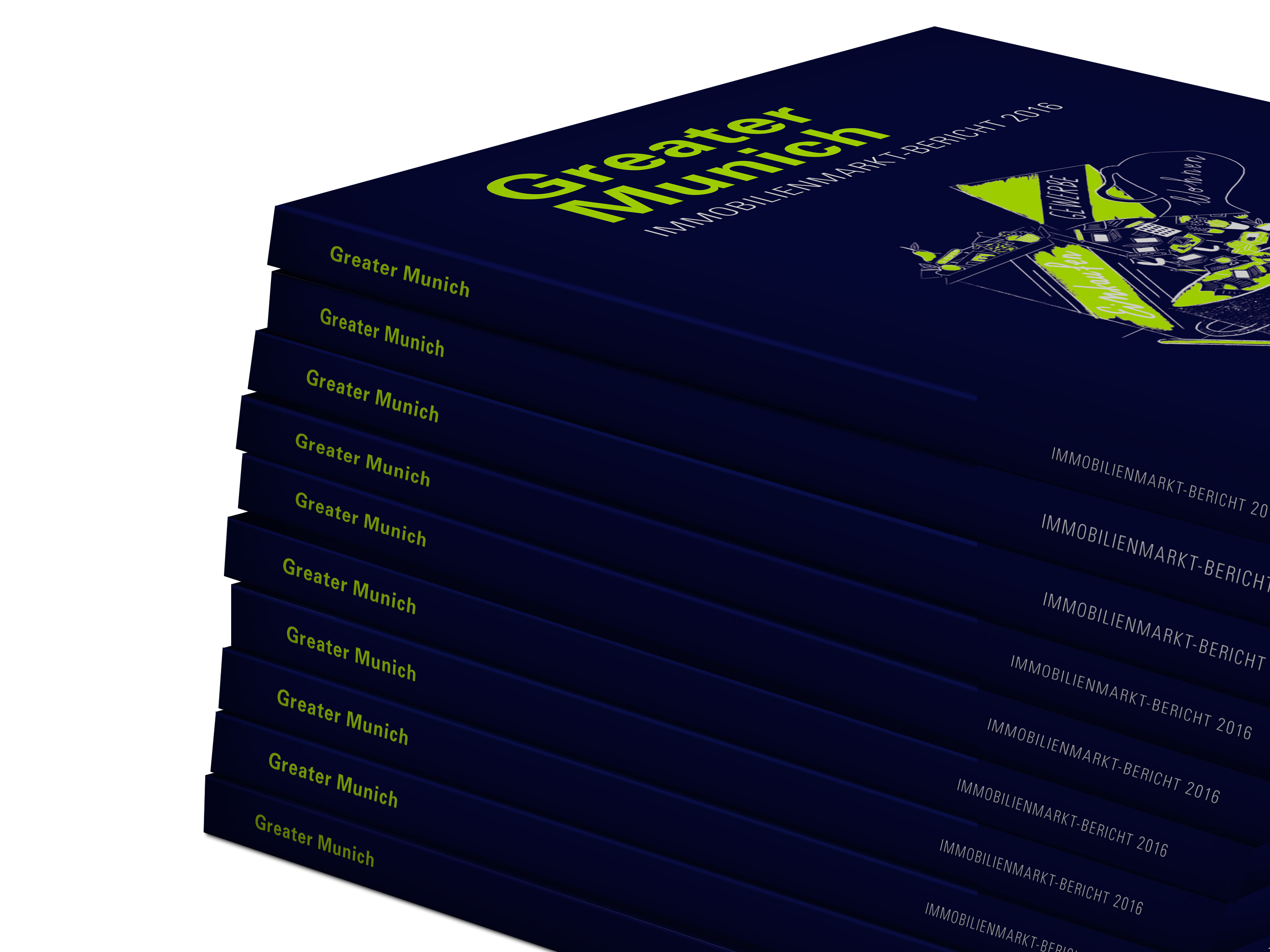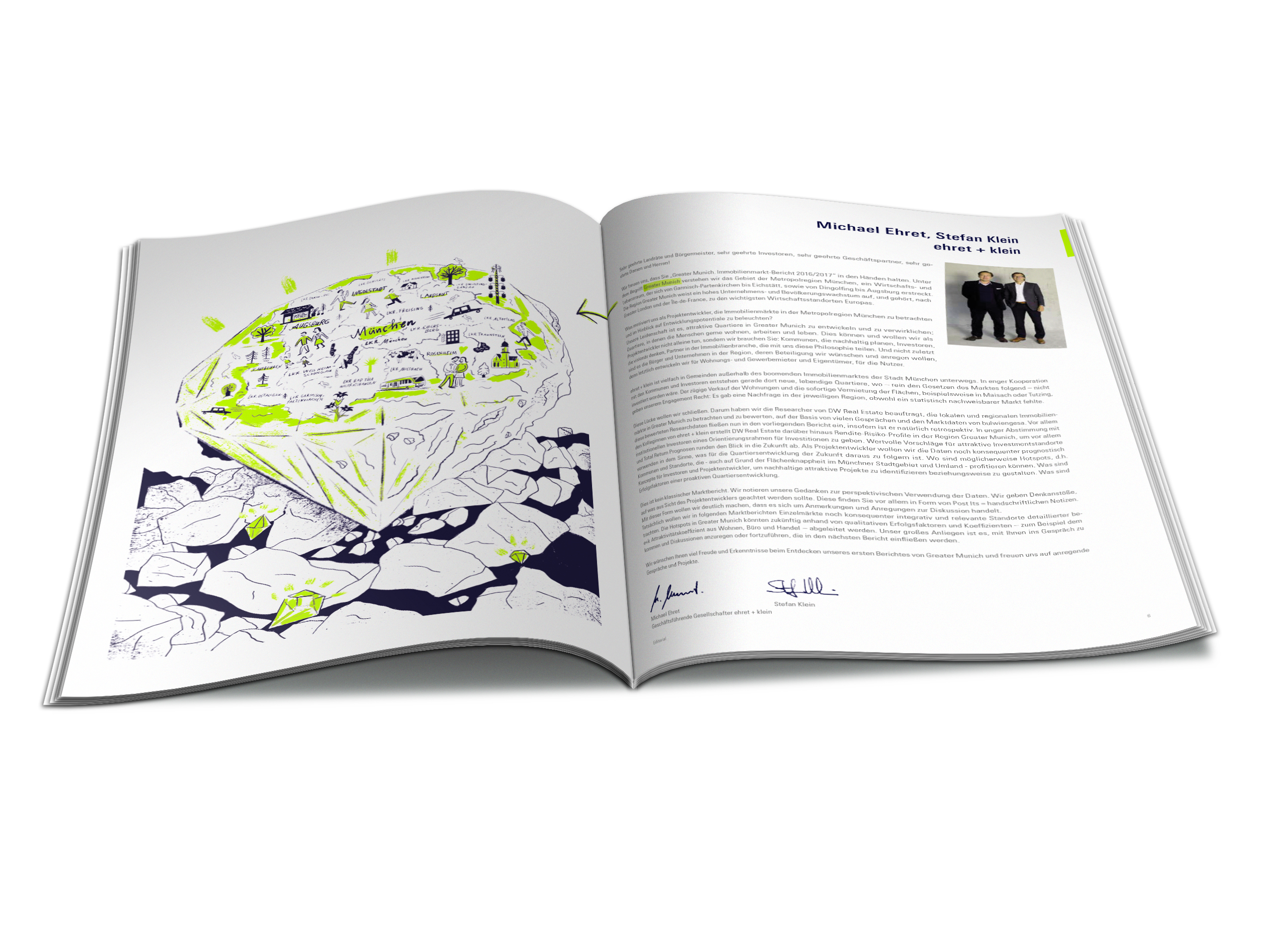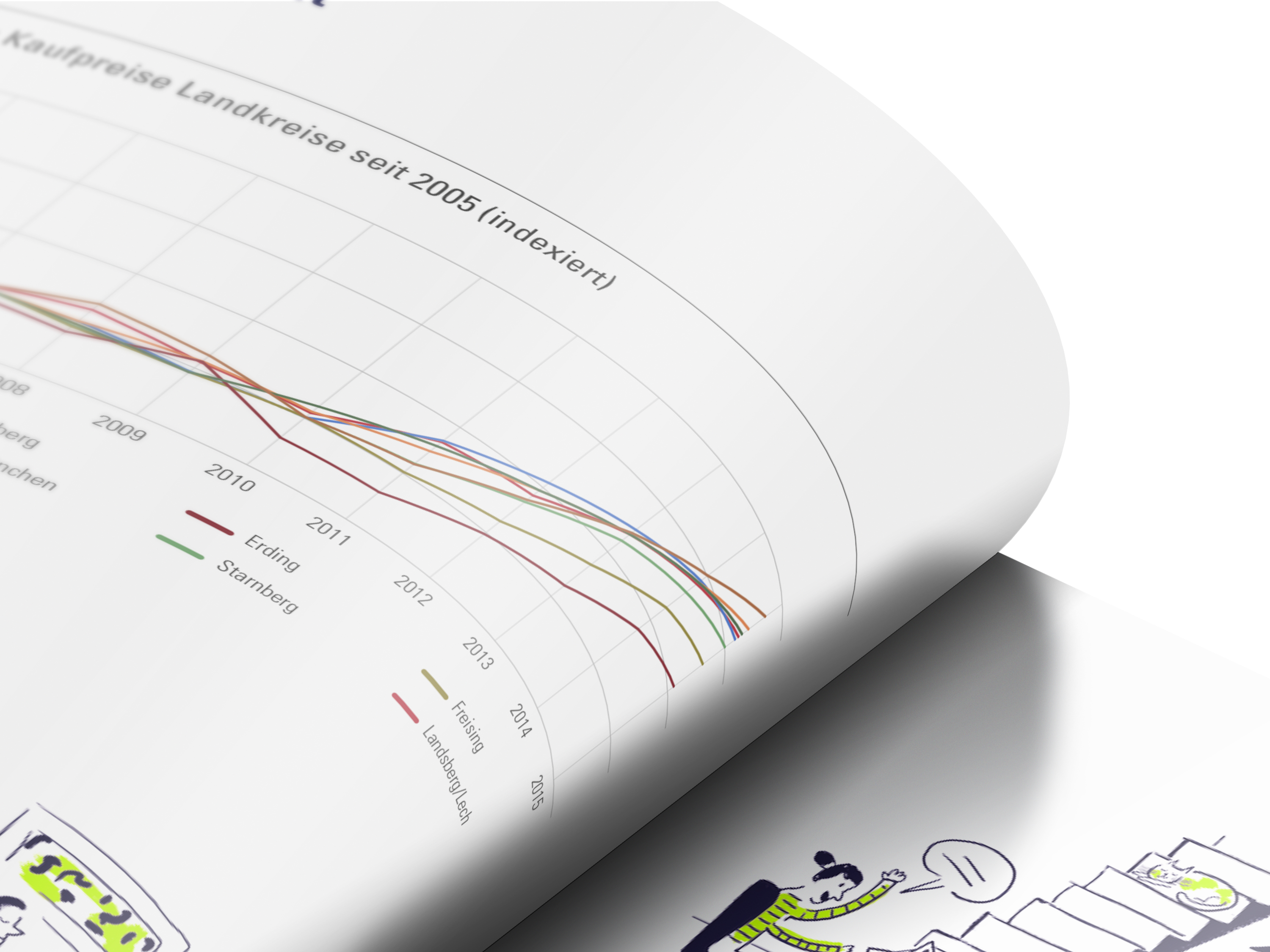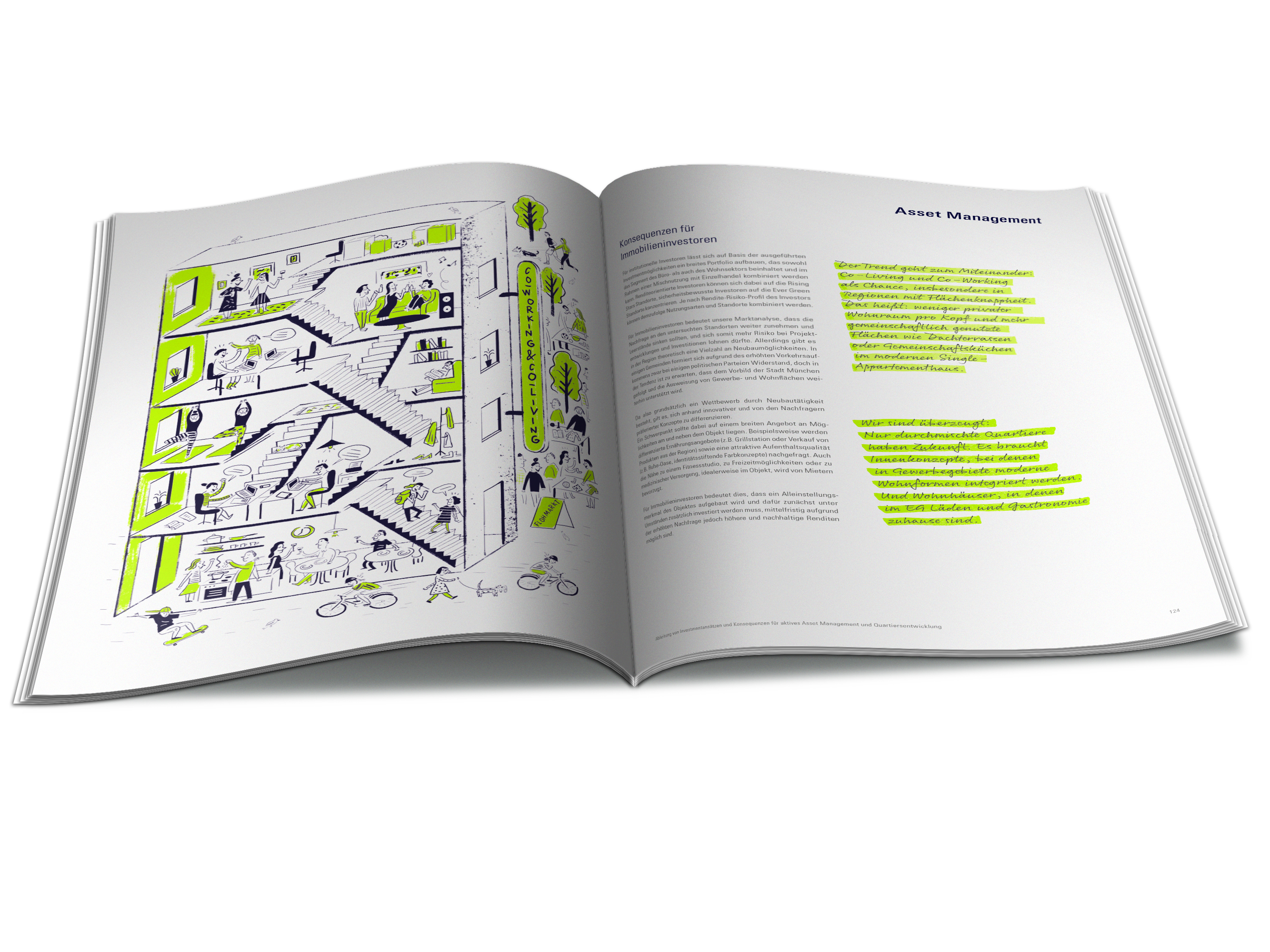 // WARUM EIN IMMOBILIEN-MARKTBERICHT ALLES ANDERE ALS LANGWEILIG SEIN MUSS Wie bringt man viele Infos, Zahlen, Daten, Fakten, Tabellen und Text so rüber, dass das Lesen Spaß macht? Dieser Herausforderung stellten wir uns mit dem Projekt "Greater Munich", dem 130 Seiten starken Immobilienmarkt-Bericht 2016, den ehret+klein zur EXPO Real 2016 veröffentlicht hat. Um die Metropolregion München, von Garmisch-Partenkirchen bis Eichstätt und von Dingolfing bis Augsburg, optimal zu präsentieren, wollten wir diesen Marktbericht nicht "nur" hochwertig und seriös gestalten. Deshalb entschieden wir uns für zweierlei: Ein ungewöhnliches Farbkonzept in Dunkelblau und Neongrün, das auf der EXPO besonders auffiel. Und für eine "Bereicherung" der klar strukturierten Infos um Visionen, Denkanstöße, Gedanken und Tipps des e+k Geschäftsführers, visualisiert als pfiffige Illustrationen, mit vielen Details zum Schmunzeln. Nach einem internen Wettbewerb unter drei Illustrator/innen, bekam Carolin Löbbert aus Hamburg von uns den Zuschlag – und wir ein tolles Lob der e+k Leiterin Unternehmenskommunikation Anke Witzel: "Besonders haben mir die ehrliche Begeisterung und Leidenschaft von Alexandra Goldfuss gefallen, gepaart mit effektivem Projektmanagement und einem hoch professionellen Team. Zusammen mit Pascal Gerdsmeier, einem sehr überlegten, tief mit seiner kreativen Arbeit verbundenen Designer, sind die beiden ein perfektes Team." Die Studie können Sie bestellen zu einer Schutzgebühr von € 220,-- unter presse@ehret-klein.de.