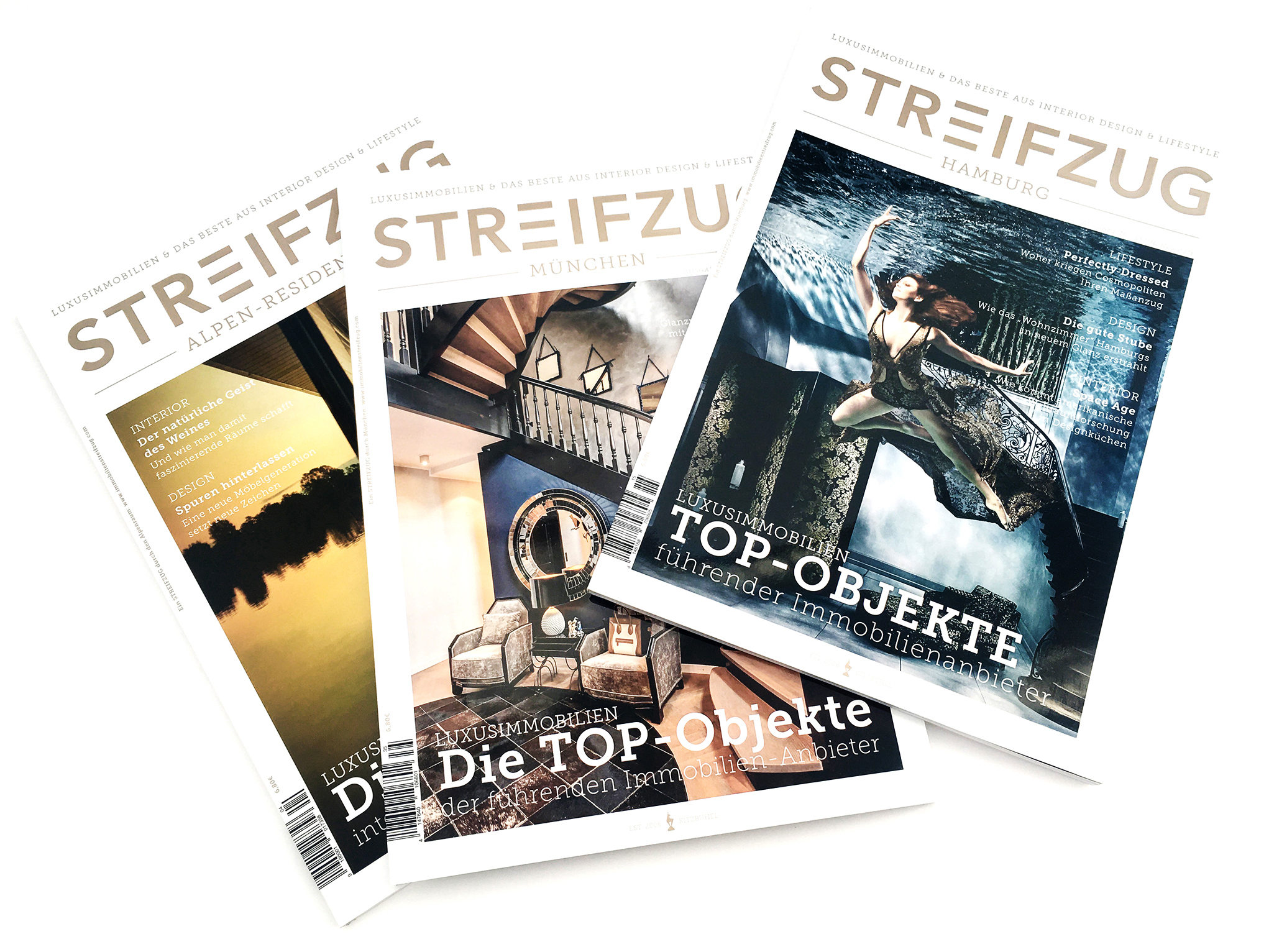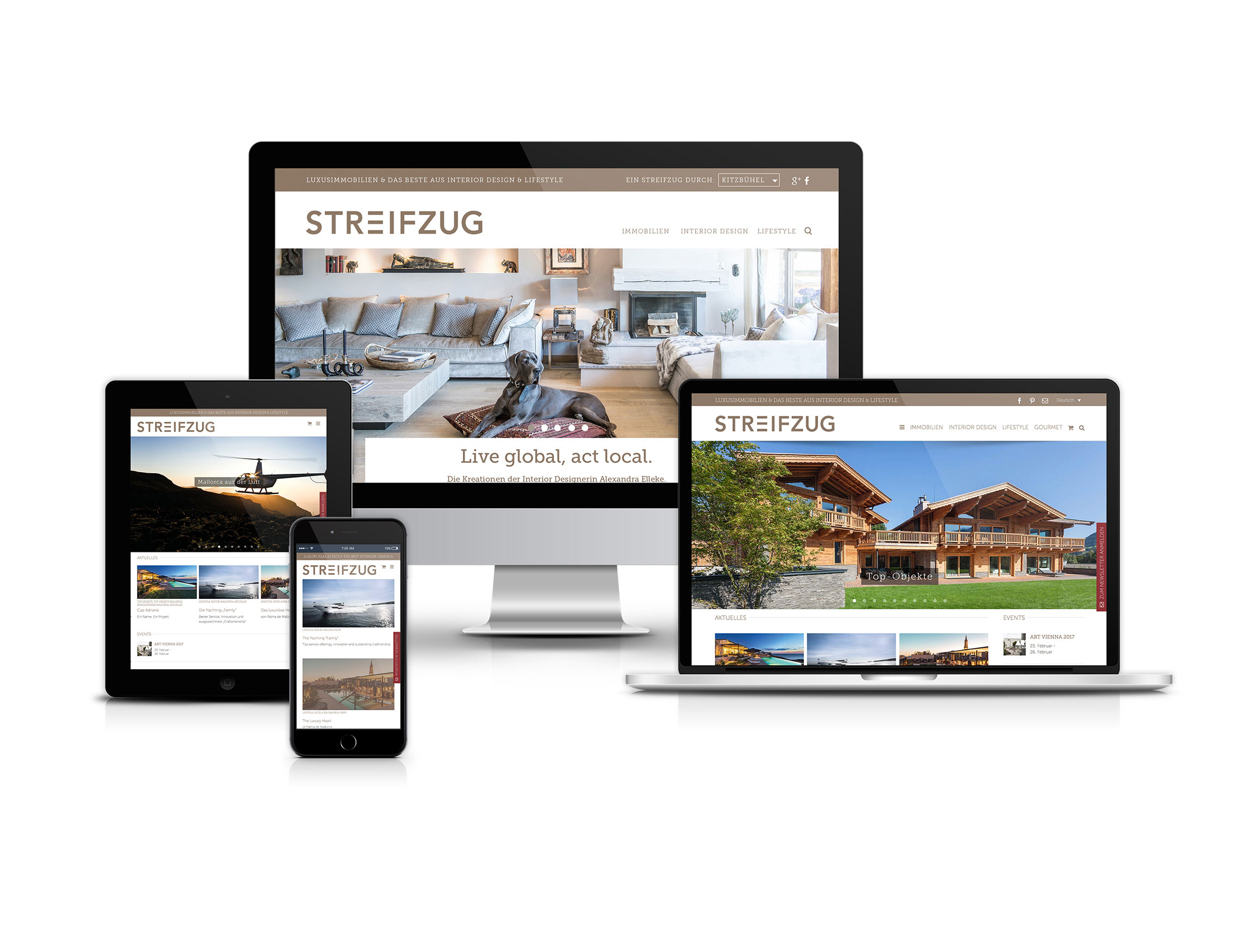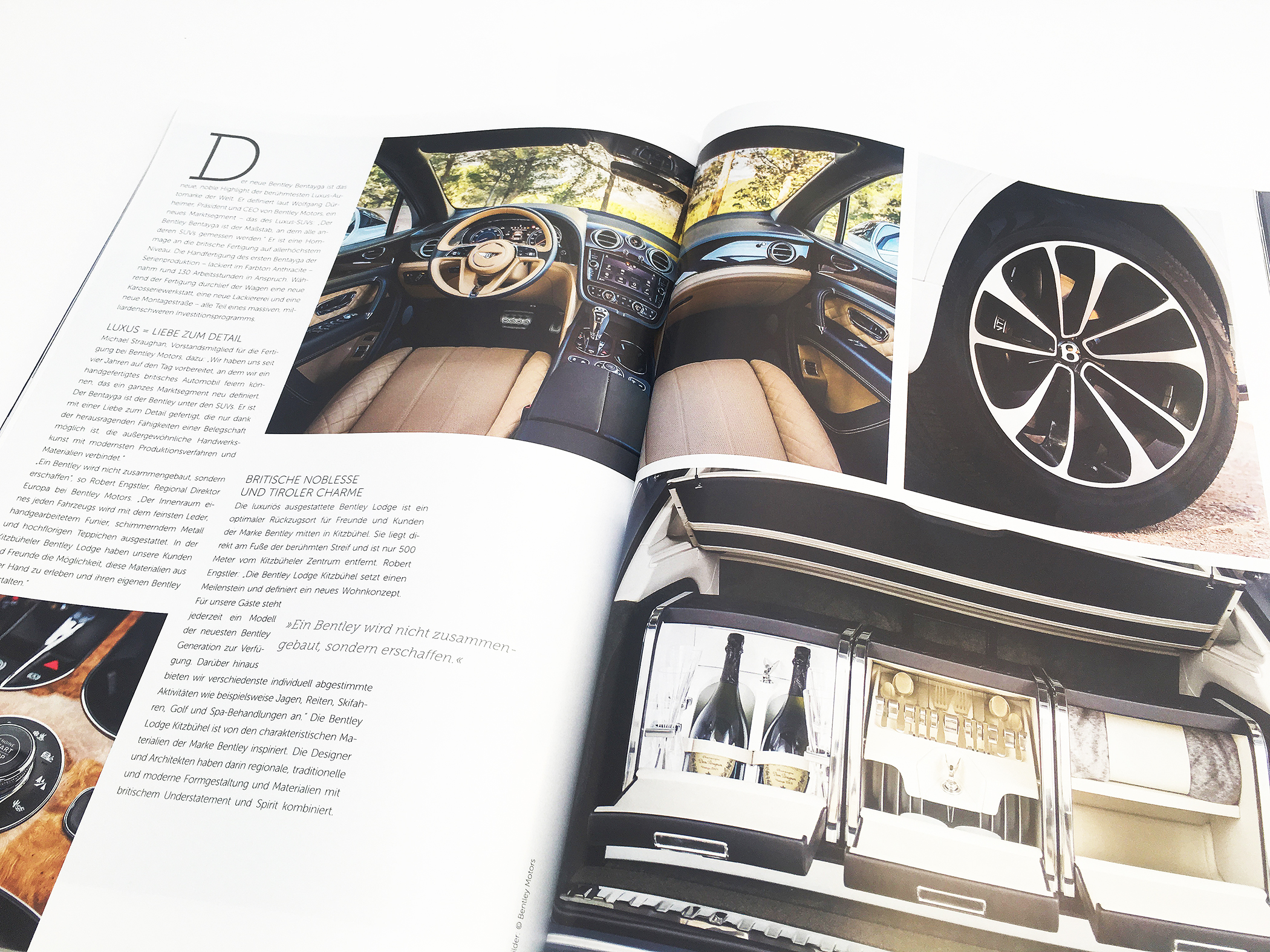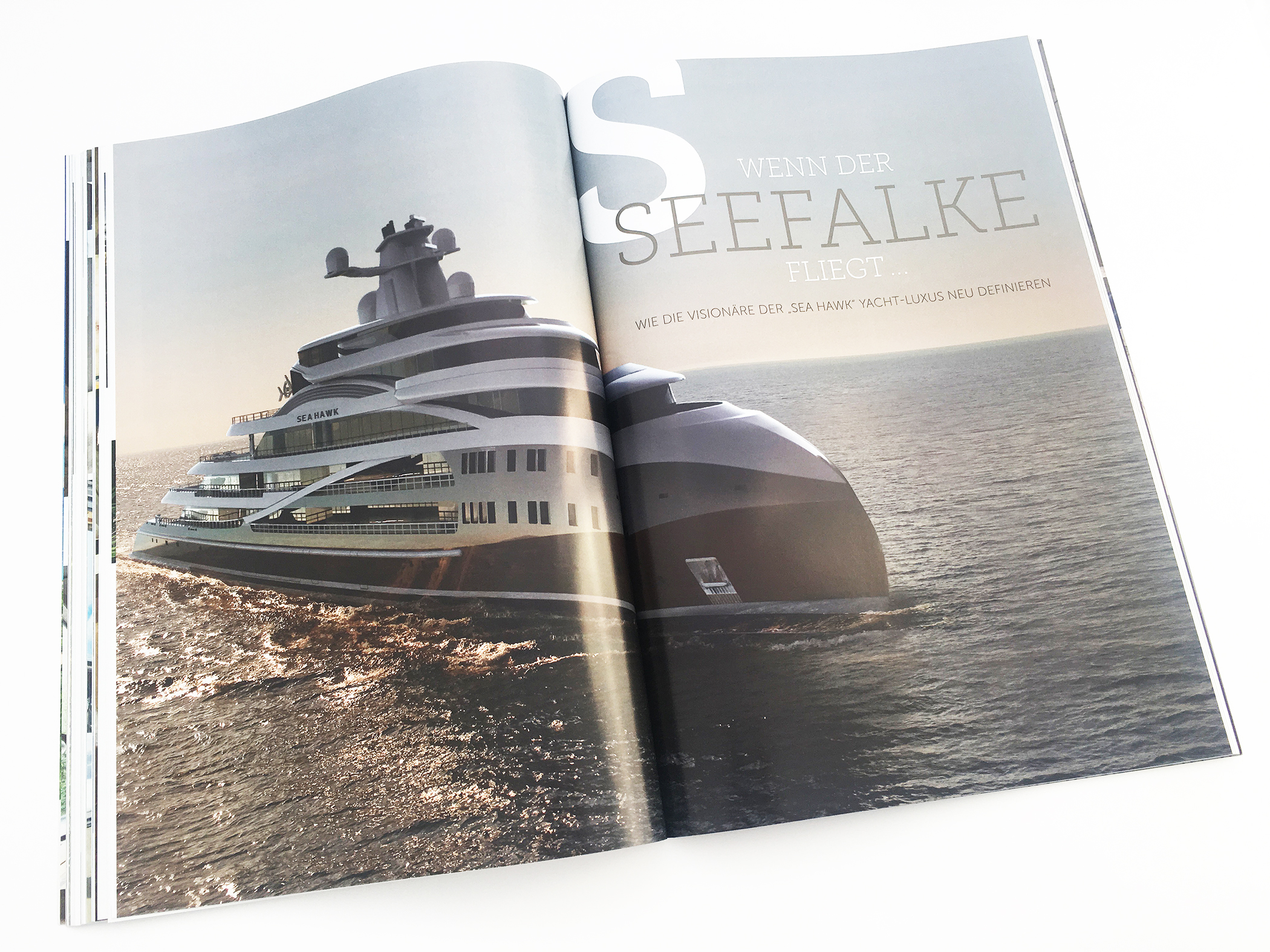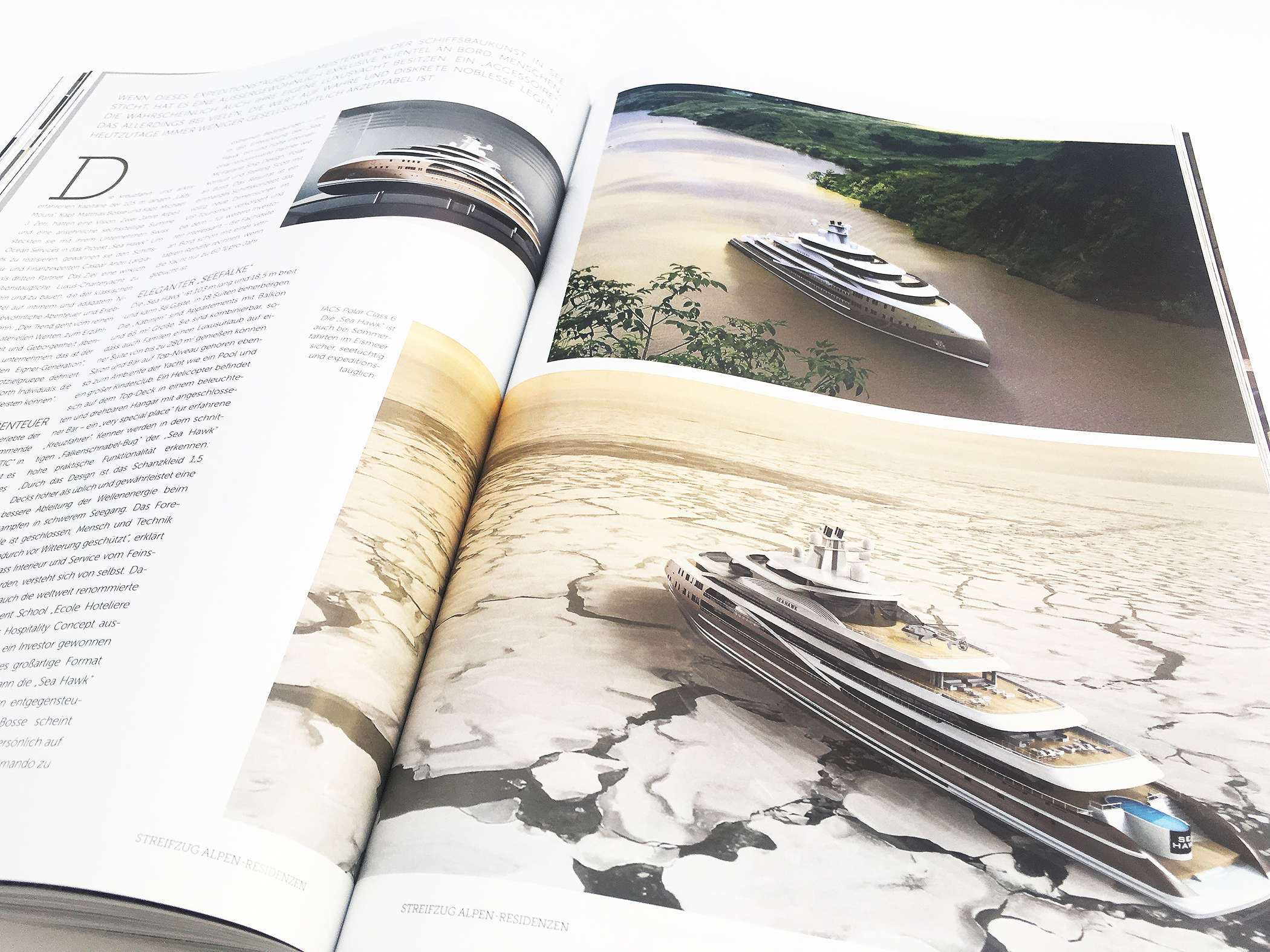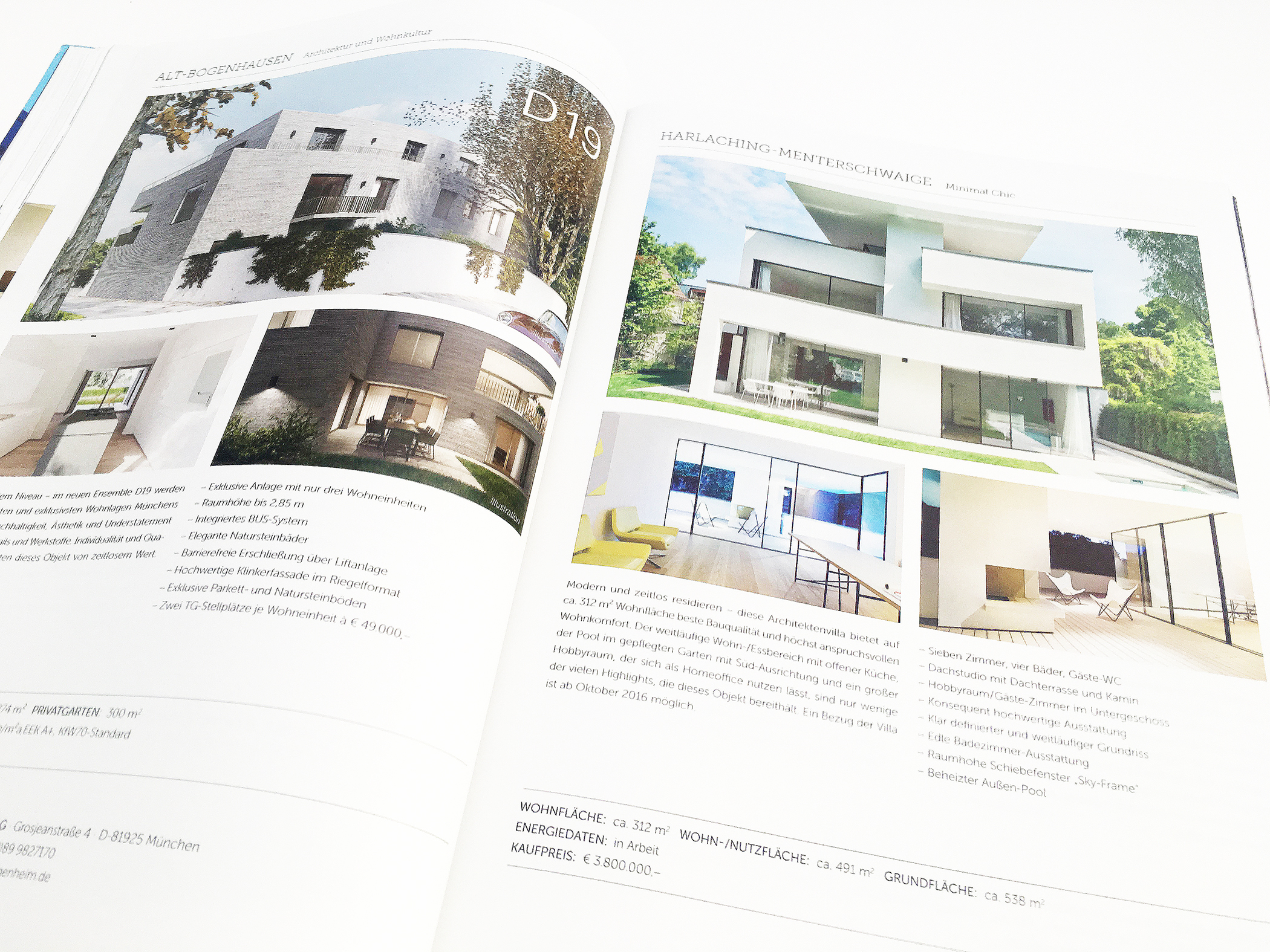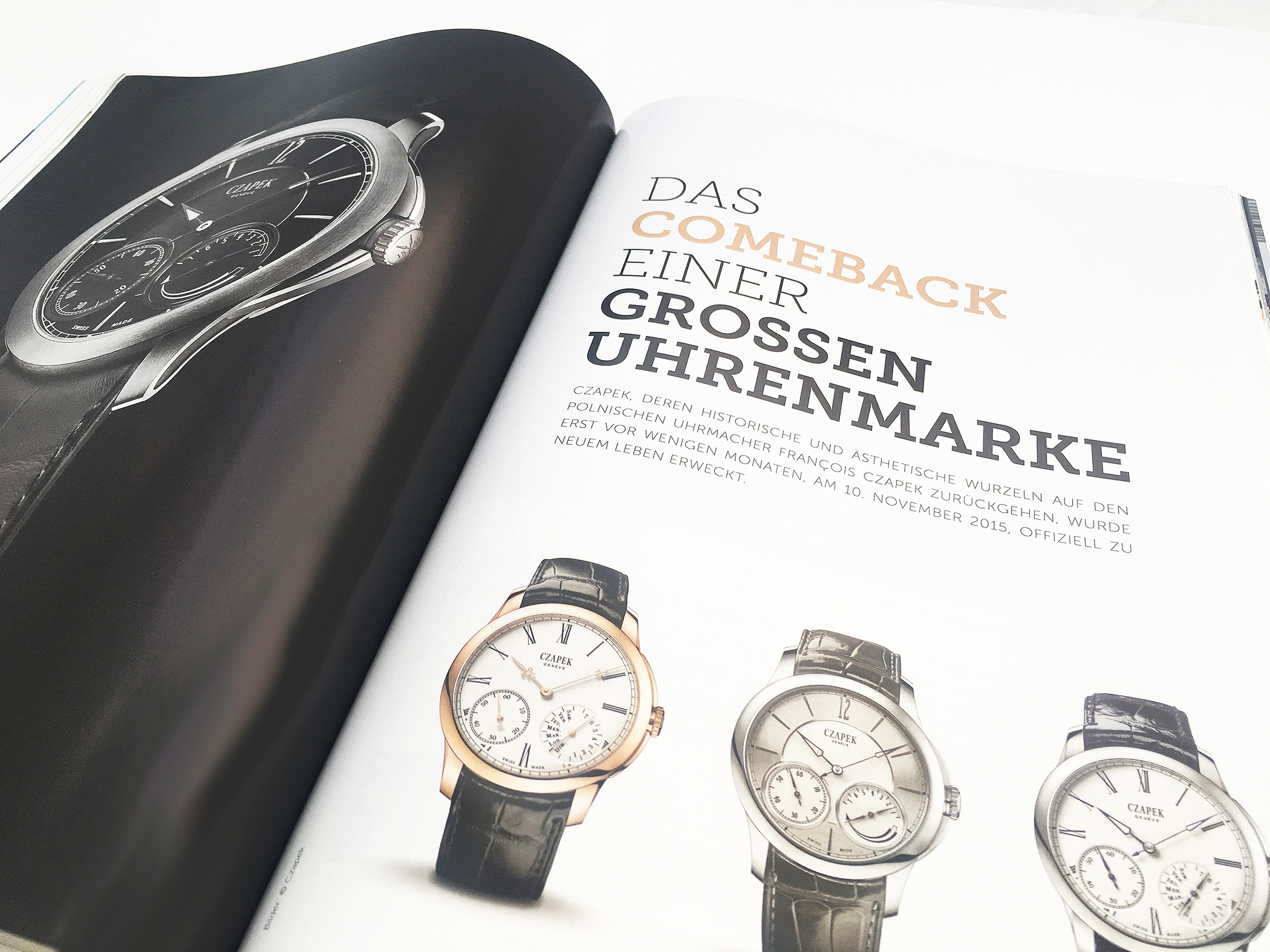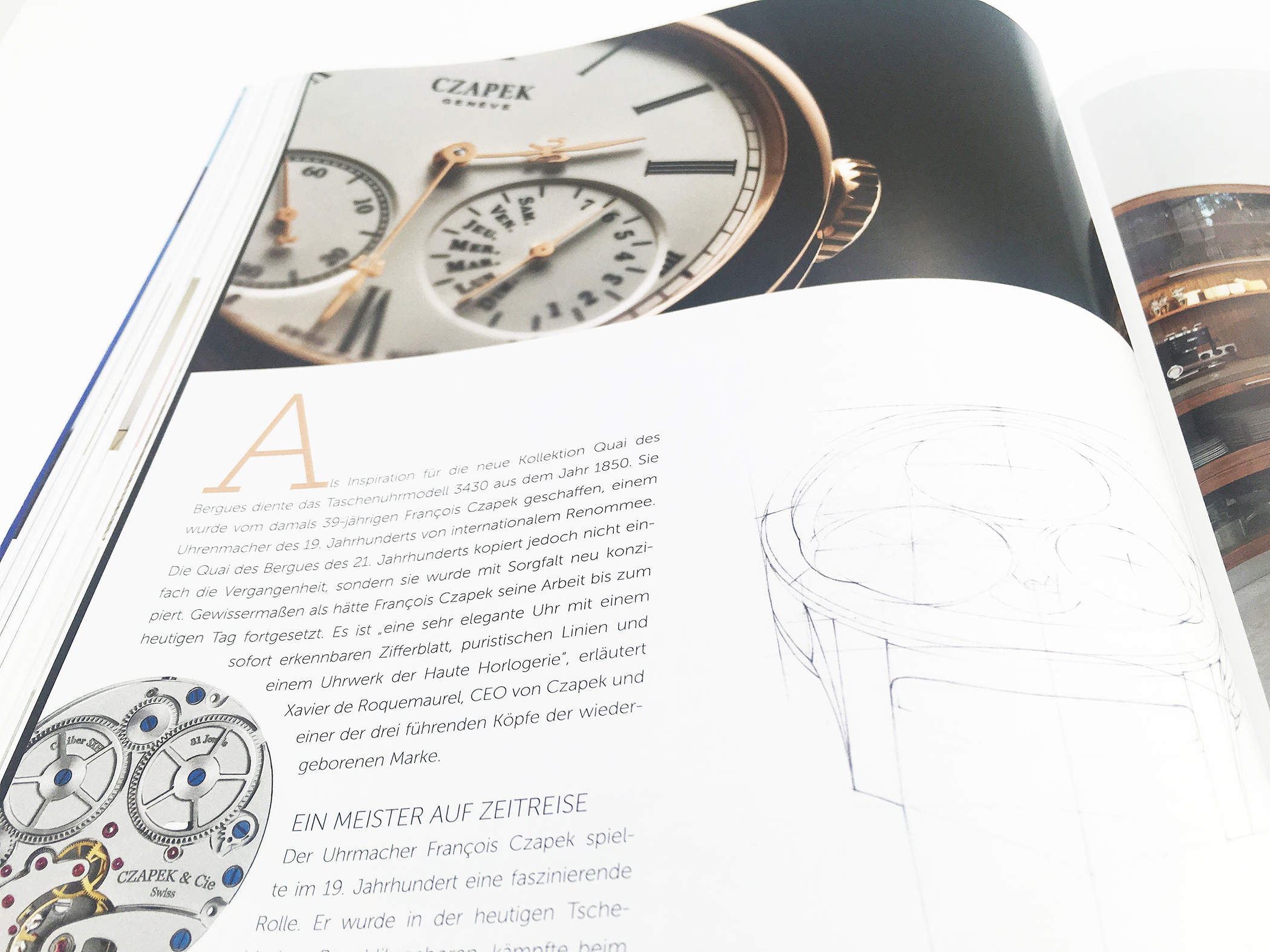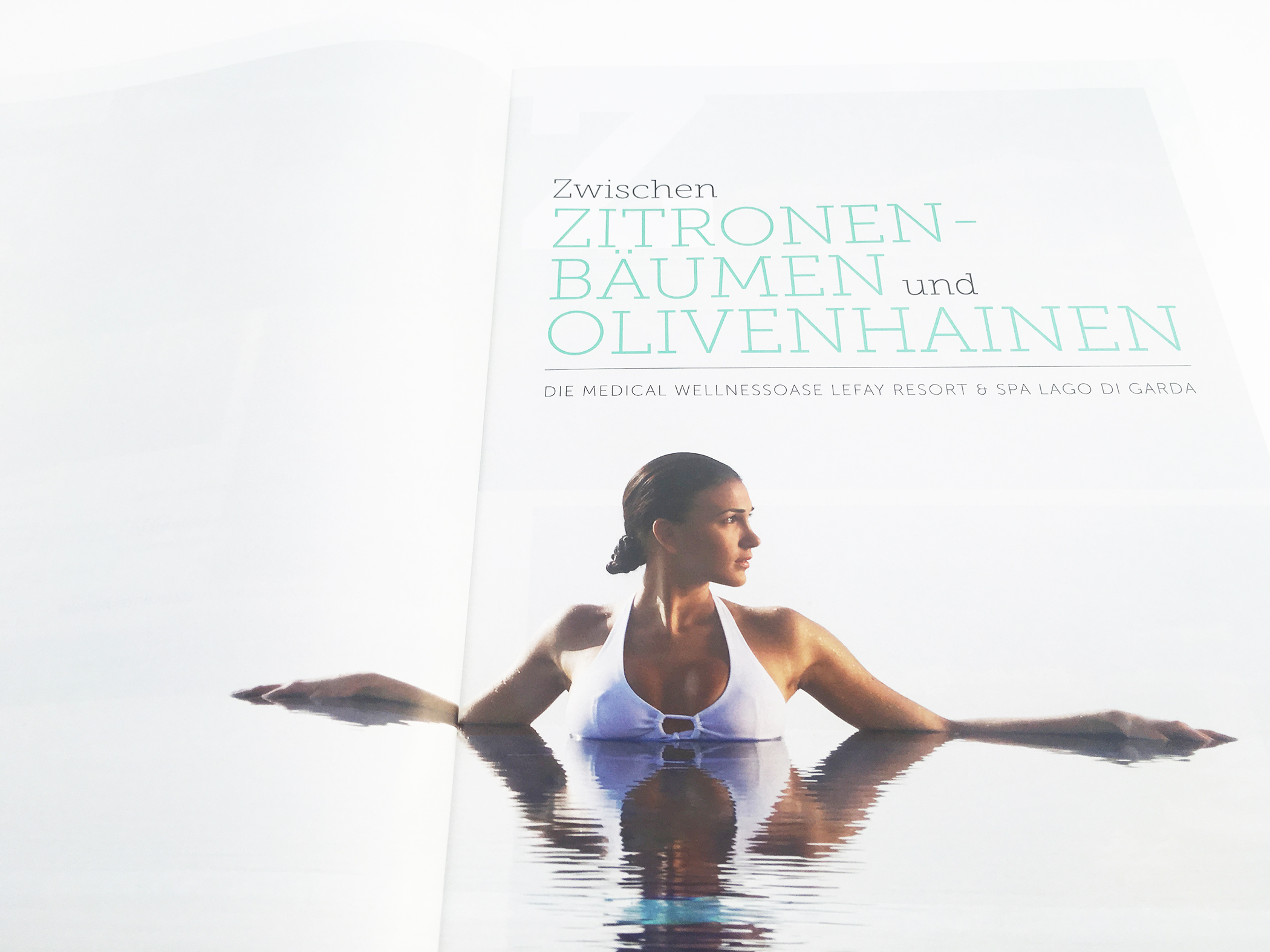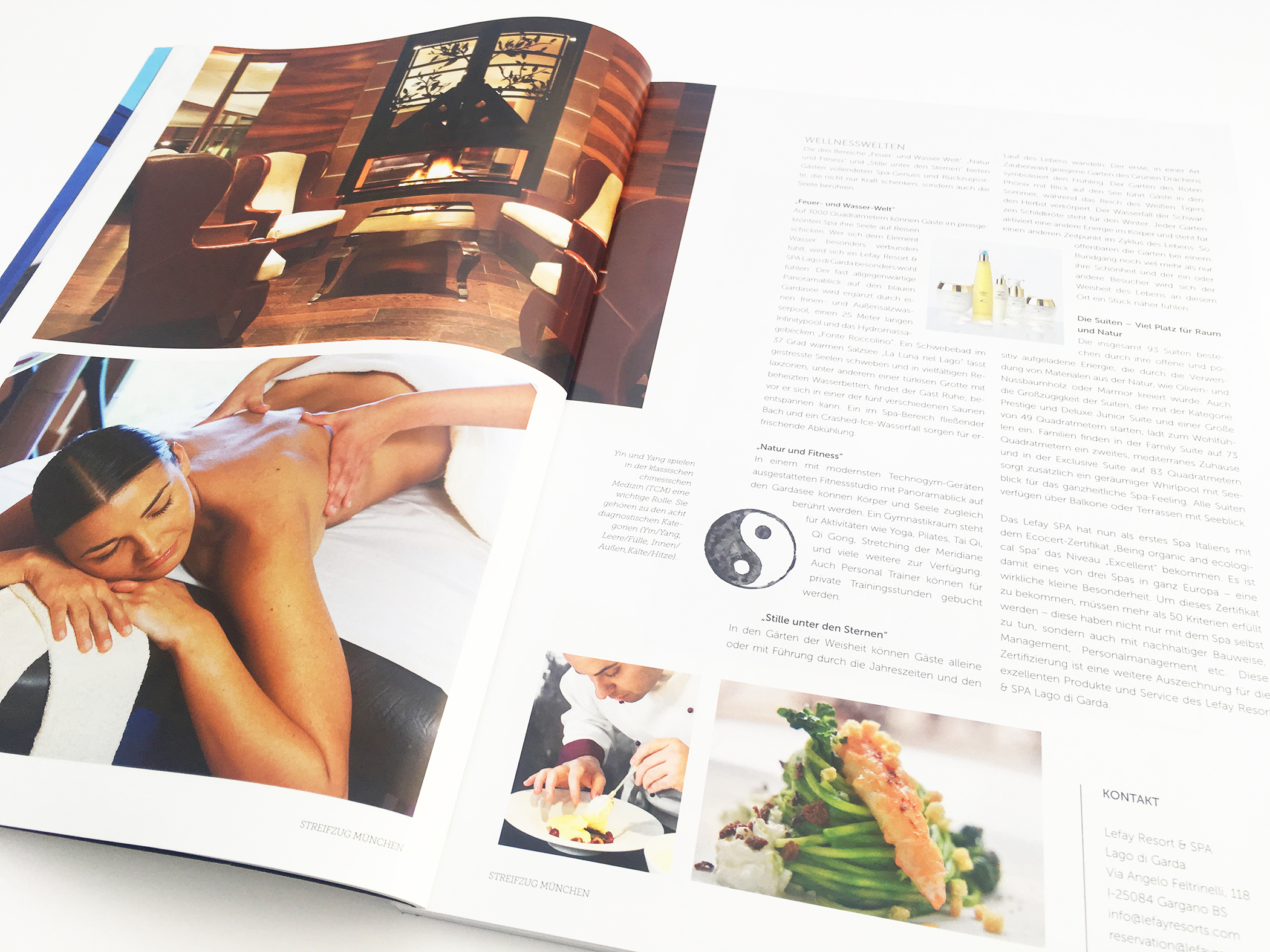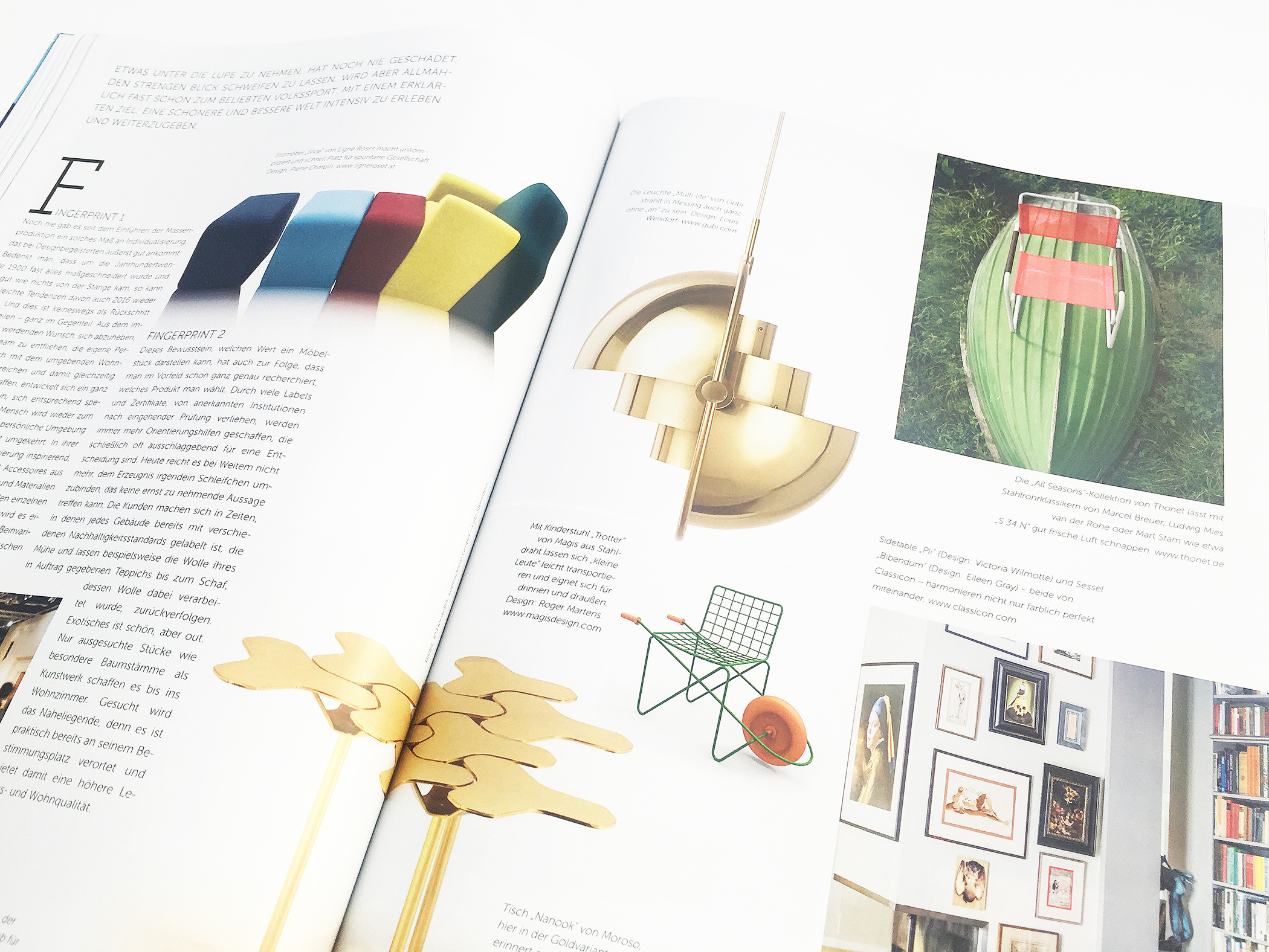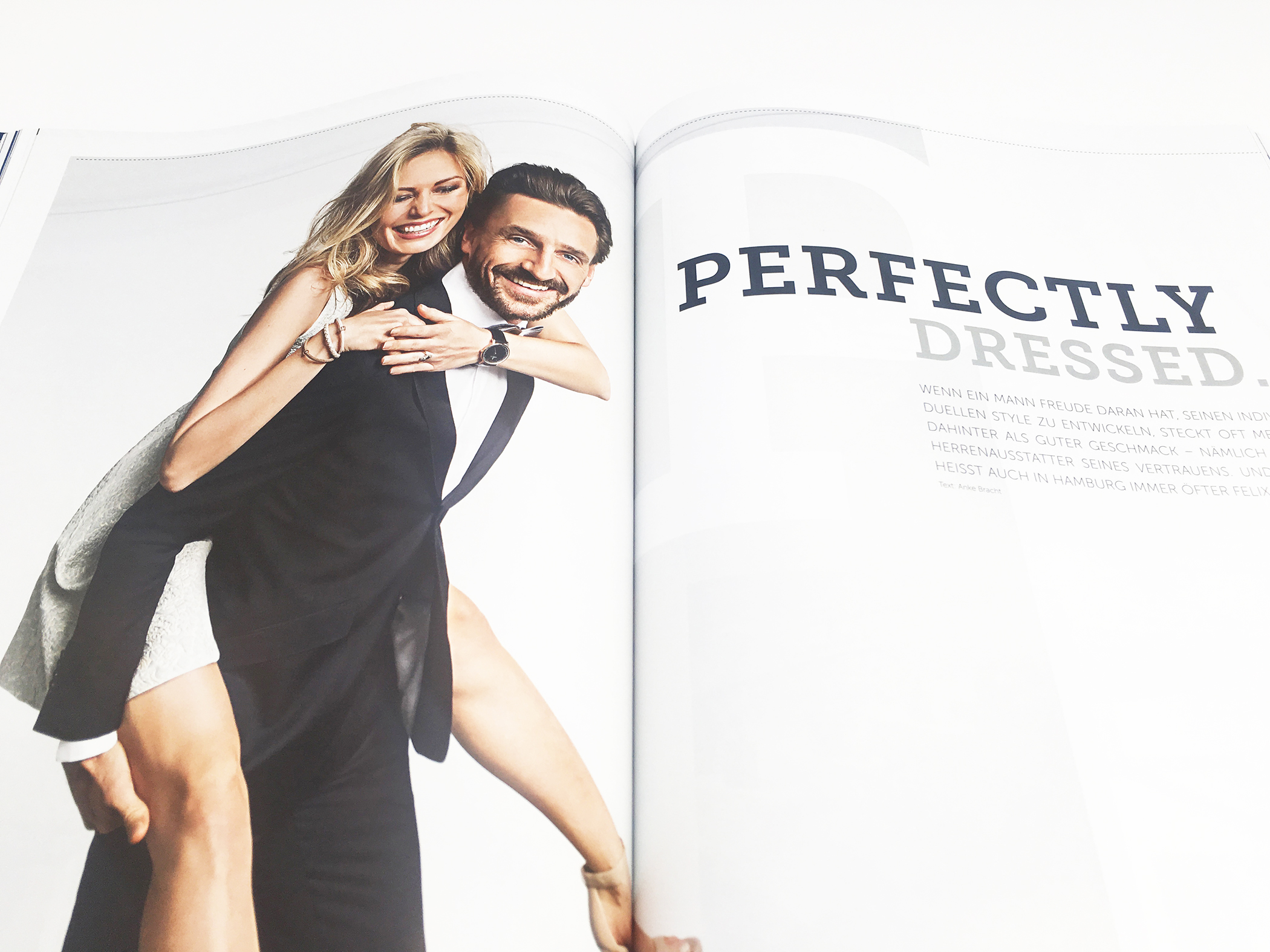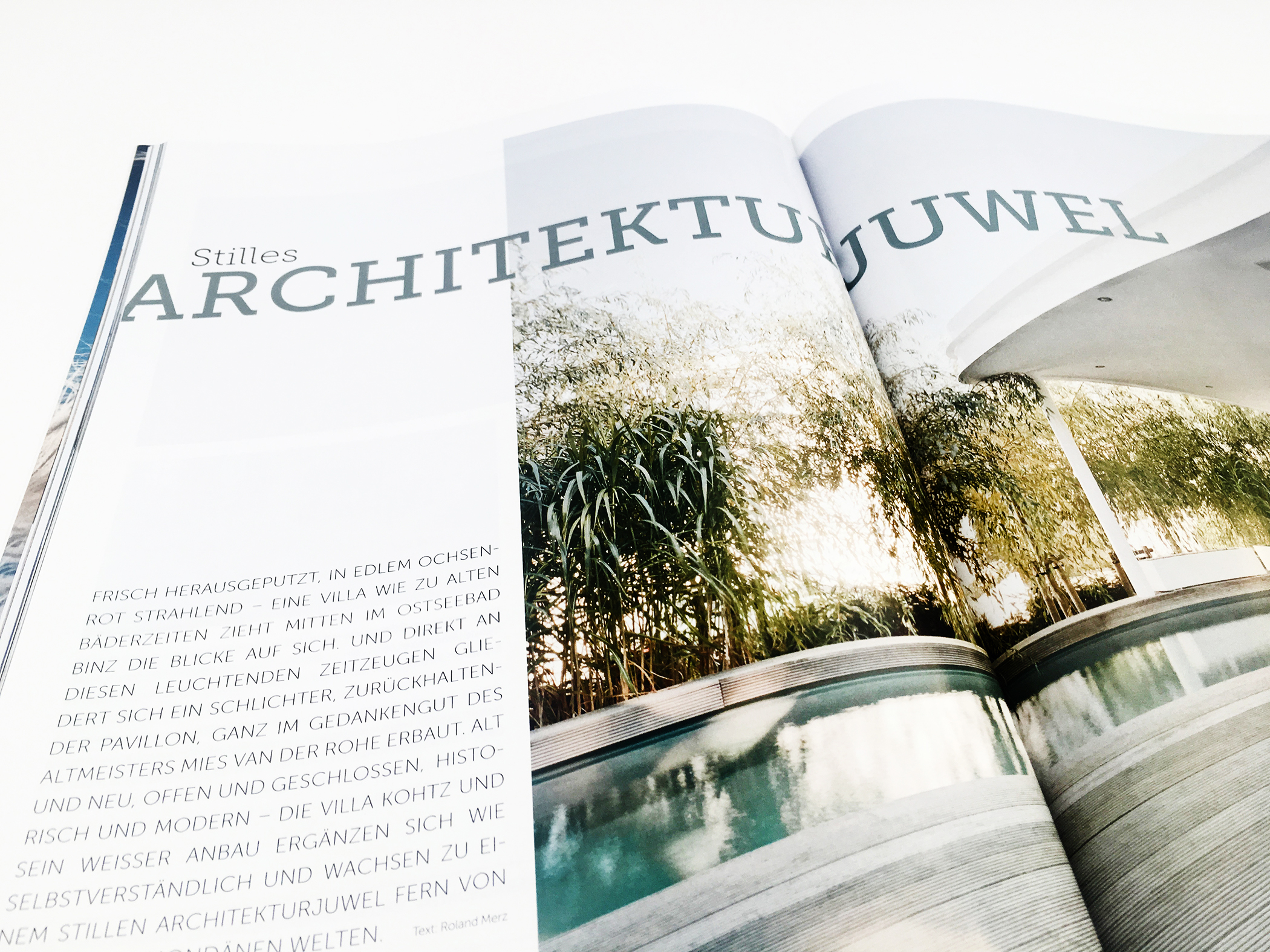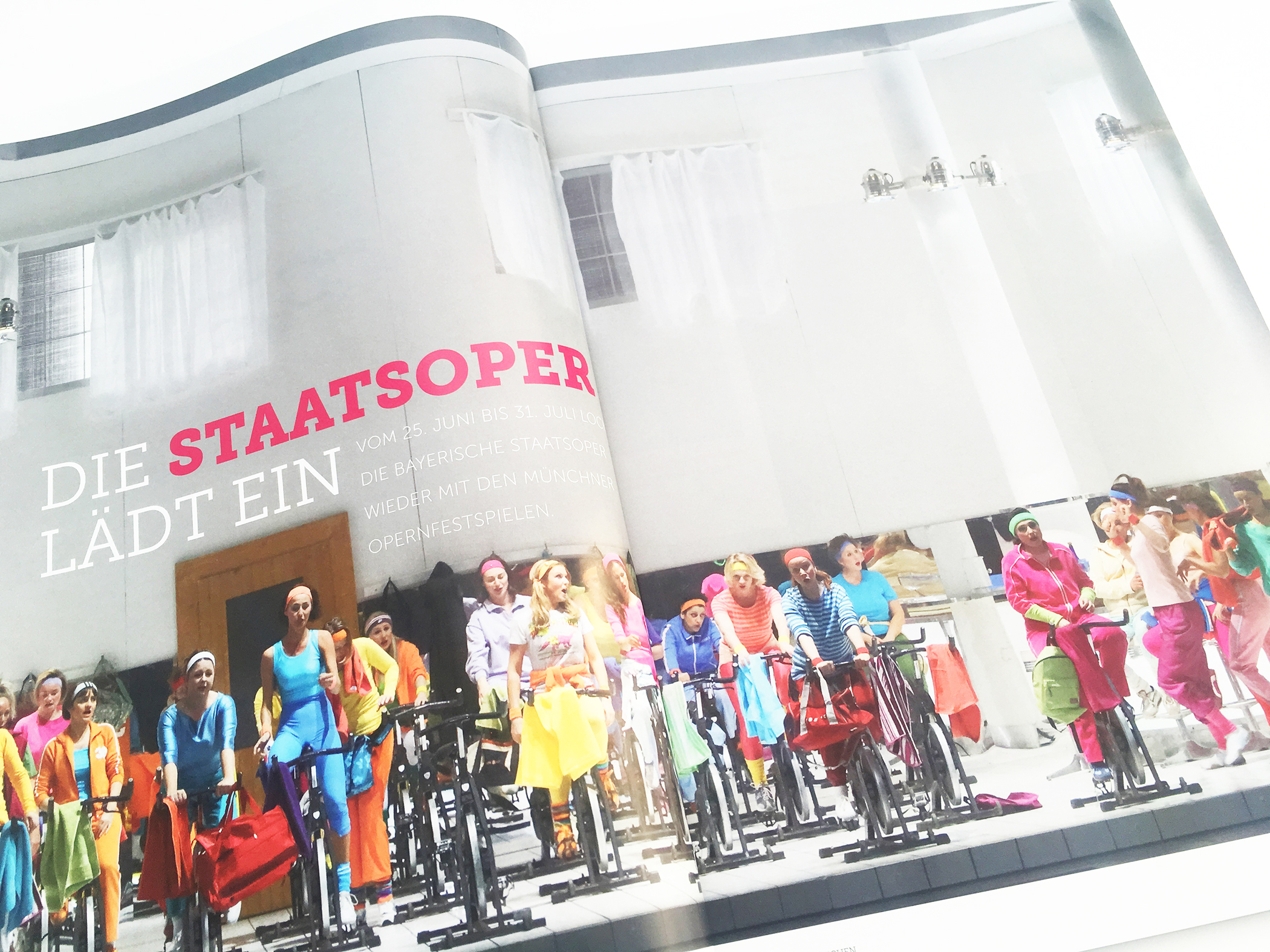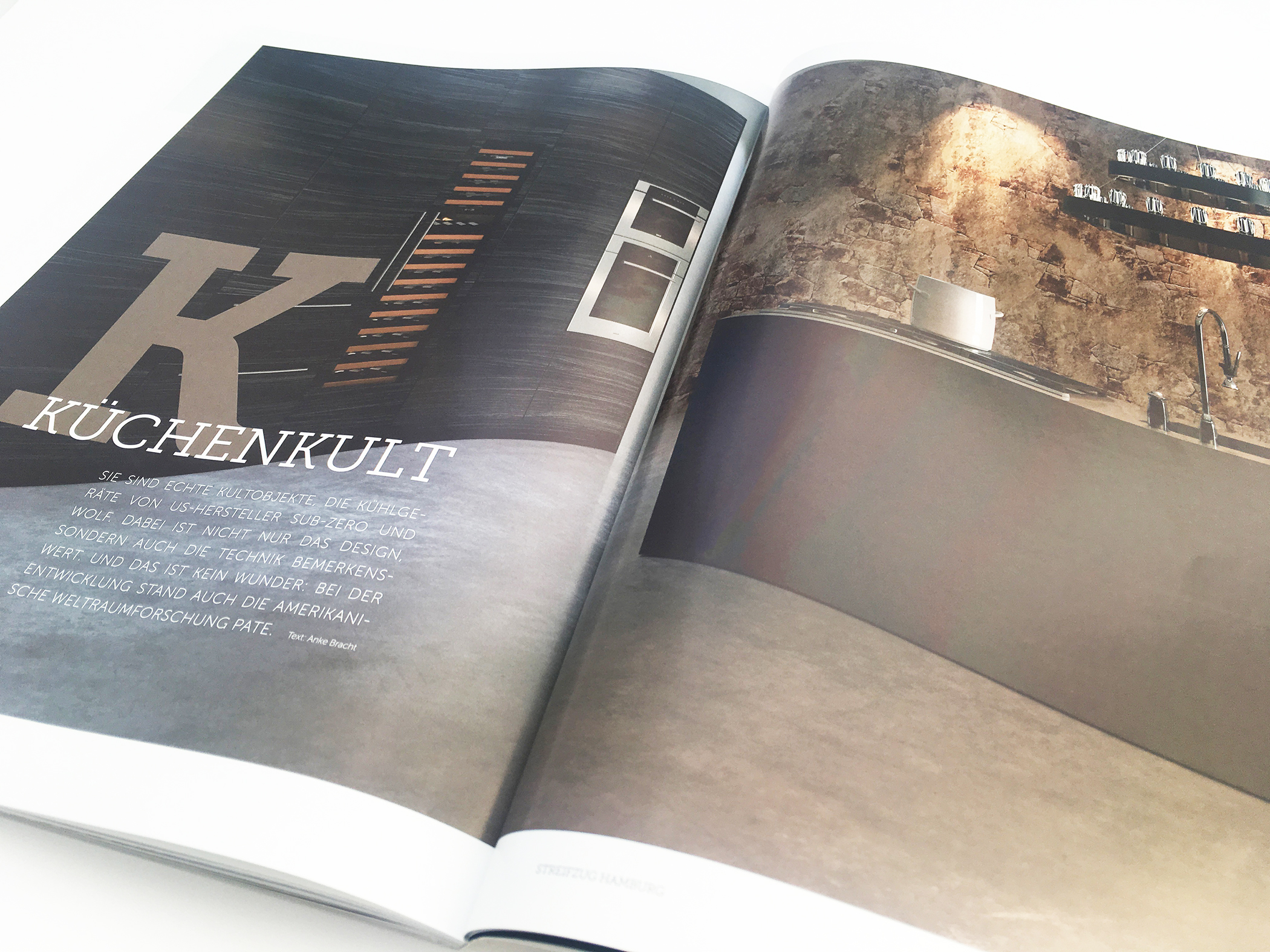 Project Description
// LUXURY REAL-ESTATE AND EXCLUSIVE LIFESTYLE: STREIFZUG POSITIONED STRATEGICALLY IN THE ADVERTISING MARKET.
UNIQUE and All About Advertising connecting for STREIFZUG demanding content with modern design.
STREIFZUG, the magazine specialized on luxury real estate and the best of interior design and lifestyle, will try on a new look this spring. The magazine has five regional issues for Kitzbühel, Munich, Hamburg, Vienna, and the Alps. The marketing agencies UNIQUE Monaco and All About Advertising from Munich gave STREIFZUG a contemporary look. State of the art design and a new public image mirror the readers' and advertisers' high demands. Even just the title page positions STREIFZUG as a magazine focusing on luxury real estate and an exclusive lifestyle, now more than ever. Editor and publisher Walter Taferner said, "For STREIFZUG's ten year anniversary, we wanted to stay true to our reputation as trendsetters and provide a benchmark in our field. Readers will get more sophisticated topics, something our advertisers will also immediately notice."
During a brand and positioning workshop lasting several days, the agencies UNIQUE Monaco and All About Advertising, assigned with creative direction and strategic consultation, together with STREIFZUG's executive board, took a closer look at the altered target groups of the magazine business. As Alexandra Goldfuss, manager of All About Advertising Munich, said, "It was particularly important to us to meet the demands and desires of the readers. In cooperation, we have identified the brand essence and started repositioning with an optically and substantially strong magazine. Content and packaging are now balanced." Pascal Gerdsmeier from UNIQUE Monaco added, "Our common goal was to create a unique visual appearance. With its new look, STREIFZUG should rise above its competition in magazine distribution and at the counters. To achieve this, we revised the front pages. They shine in new splendor with diverse, bright metallic colors and partial relief varnishing. Tried and trusted concepts on the other hand were only delicately refined. The unchanged logo was moved to the front and combined with the modern font family 'Museo', a font that works well in print and digital form. This will assure recognition in all types of media."
In the future, not only essential regionally, nationally, and internationally operating real estate agencies with their luxury offers and other sector-oriented manufacturers will be the advertise target groups of the special magazine, firmly established since 2006. STREIFZUG magazine will still be issued four times a year and will have a total circulation of 250,000 magazines each year and, from now on, lifestyle companies that target their products at a very sophisticated clientele will be among the magazine's advertisers. Correspondingly, STREIFZUG will present its readers with more superbly researched and exclusively edited lifestyle topics concerning interior design, fashion, cars, gourmet food, arts and culture, and jewelry. As an improved service for realtors, building contractors, interior designers, and lifestyle companies, the magazine now offers highly flexible ad reservations.
Etha Taferner, manager and officer of the magazine's realization, shows how pleased she is with this result. "Our choice of agencies was optimal. The agency teams are marketing experts in the field of real estate and luxury brands. We feel perfectly supported by them and we can completely identify with their result. Now, we eagerly await the feedback of our esteemed readers and advertisers."
The relaunch of the magazine is part of the strategic reorientation that STREIFZUG is currently undergoing. In the summer of 2016, a new website will follow that aims at professionally using digital media while still keeping up high standards. Through this, STREIFZUG will move across several channels of communication in order to better involve social media strategies.
_____
// LUXUS-IMMOBILIEN UND EXKLUSIVER LIFESTYLE: STREIFZUG POSITIONIERT SICH STRATEGISCH AUF DEM ANZEIGEMARKT
UNIQUE und All About Advertising verbinden für STREIFZUG anspruchsvollere Inhalte mit modernem Design
STREIFZUG, das Magazin für Luxus-Immobilien und dem Besten aus Interior-Design und Lifestyle, startet in frischem Look in den Frühling. Die Münchner Marketingagentur UNIQUE Monaco und All About Advertising haben STREIFZUG, das in fünf Regionalausgaben für Kitzbühel, München, Hamburg, Wien und für die Alpen-Region erscheint, ein zeitgemäßes Aussehen gegeben. State-of-the-Art-Design und neue Außendarstellung spiegeln die hohen Ansprüche der Leser und Anzeigenkunden und positionieren STREIFZUG schon mit der Titelseite mehr denn je als Magazin mit dem Fokus auf Luxus-Immobilien und exklusiven Lifestyle. "Zum 10-jährigen Bestehen von STREIFZUG wollten wir als Trendsetter einen neuen Benchmark in der Branche setzen. Die Leser bekommen nun noch anspruchsvollere Inhalte, was auch unsere Anzeigenkunden direkt spüren werden. STREIFZUG wird künftig mehr exklusiv aufbereitete Lifestyle-Inhalte zu Interior-Design, Fashion, Auto, Gourmet, Kunst & Kultur sowie Schmuck präsentieren", sagt Herausgeber und Verleger Walter Taferner.
In einem mehrtägigen Marken- und Positionierungs-Workshop mit der Geschäftsleitung des STREIFZUG haben die mit Kreativdirektion und strategischer Beratung beauftragten Agenturen und UNIQUE Monaco und All About Advertising München die veränderten Zielgruppen im Zeitschriftengeschäft genau beleuchtet. "Besonders wichtig war uns, den Ansprüchen und Wünschen der Leser gerecht zu werden. Wir haben gemeinsam den Markenkern identifiziert und die Neupositionierung mit einem optisch wie inhaltlich starken Heft gestartet. Inhalt und Verpackung sind nun im Einklang", sagt Alexandra Goldfuss, die Geschäftsführerin von All About Advertising München. Und Pascal Gerdsmeier von UNIQUE Monaco fügt hinzu: "Unser gemeinsames Ziel war es, ein einzigartiges Erscheinungsbild zu schaffen. STREIFZUG soll sich mit dem neuen Look von der Konkurrenz im Zeitschriftenhandel und an den Ausgabestellen abheben. Dafür haben wir die Titelseiten überarbeitet. Mit unterschiedlich bunten Metallic-Sonderfarben und partieller Relieflackierung erstrahlen sie geradezu. Bewährtes haben wir dagegen nur behutsam weiterentwickelt: Das Logo, das wir nicht verändert haben, wurde mehr in den Vordergrund gerückt und mit der modernen Schriftfamilie 'Museo' kombiniert, die bei Print und Digital gleichermaßen gut funktioniert. Das sichert Wiedererkennung über alle Medien hinweg."
Etha Taferner, Geschäftsleitung und verantwortlich für die Umsetzung der Hefte, zeigt sich überaus erfreut über das Ergebnis: "Die Agenturwahl war optimal. Die Agenturteams sind Marketingspezialisten im Immobilien- und Luxusmarkenbereich. Da fühlen wir uns perfekt aufgehoben. Mit dem Ergebnis können wir uns zu hundert Prozent identifizieren. Wir warten nun gespannt auf das Feedback unserer Leser und Anzeigenkunden."
Zukünftig sollen nicht mehr nur die wesentlichen regional, national und international tätigen Immobilienanbieter mit ihren Luxusangeboten sowie branchenorientierte Hersteller Anzeigen-Zielgruppen des seit 2006 fest etablierten Spezialmagazins sein. Auch Lifestyle-Unternehmen mit ihren Produkten für eine höchst anspruchsvolle Zielgruppe gehören in Zukunft zu den Anzeigenkunden des STREIFZUG-Magazins, das weiterhin viermal pro Jahr erscheinen wird und pro Jahr eine Gesamtauflage von 250.000 Heften hat. Der verbesserte Service für Makler, Bauträger, Interior Design- und Lifestyle-Unternehmen: Ab sofort gibt es höchst flexible Inserat-Buchungen. Der Relaunch des Magazins ist aber nur ein Teil der strategischen Neuausrichtung, der sich STREIFZUG derzeit unterzieht. Im Herbst 2016 wird der neue Internetauftritt folgen, mit dem bei gleich hohem Anspruch die digitalen Medien professionell besetzt werden sollen. STREIFZUG bewegt sich damit auf mehreren Kommunikationskanälen, um auch Social-Media-Strategien besser einbinden zu können.